Monthly Archives:
September 2013
We've just completed an order for presentation wall plaques from HM Prison Elmley.
Obviously, we're always pleased to receive new orders, but we're especially pleased when they are returning customers.
Gary Delo, Head of Residence at HM Prison Elmley has just place an order for wall plaques from Rowan Displays. About 3 years ago he ordered wall plaques for HM  Prison Swaleside, and we are so pleased that he remembered us when he needed plaques in his new post.
These are the plaques supplied to Elmley and the feedback was "thrilled" – so are we.
We have supplied other plaques to HM Prison Services, and we hope that they will all be as pleased with the high standards we continually strive to achieve.
Our plaques can be supplied in various wood shades, with or without presentation boxes and prop stands.
If your organization needs high quality, distinctive plaques for presentations and awards – we'd love to help.
Call us on 01430 860198 or email via our Contact Us page
As everyone returns for the start of another academic year we thought we'd take some time to look at the Universities of the United Kingdom.
Higher education in the UK has grown massively in the last 20 years, and is now almost mandatory for most students. This is a far cry from the elitist status enjoyed by universities for centuries. The development of Universities in the UK as we know them occurred in four "tiers"
The first were the original or "Ancient Universities" of the UK. These are some of the oldest universities in the world and include:
Oxford
Cambridge
St. Andrews
Glasgow
Aberdeen
Edinburgh
Dublin
These were the founded between 1096  and 1600.
There were no new universities until the early 19th century when, within a period of approximately 10 years, four new universities were founded. These were:
St David's
University College London
Kings College London
University of Durham
Later in the 19th century the "red brick" universities were founded – these included:
Victoria University (which lasted less than 25 years)
University of Birmingham
University of Liverpool
University of Leeds
University of Sheffield
University of Bristol
University of Manchester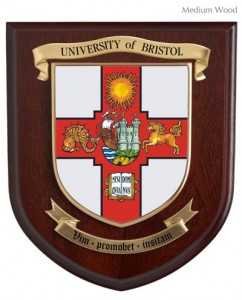 A number of colleges were granted Royal Charter during the 1960's and these are loosely referred to as "plate glass universities".
The Further and Higher Education Act 1992 allowed thirty-five polytechnics to become universities.
There are now 161 universites throughout the UK, with over 2.5 million students. Universities in the UK are highly regarded throughout the rest of the world, and almost 450,000 foreign students study at our universities.
Even those who never attended university can't help but feel proud of the tradition and the standards set by our universities – long may they continue to stand as a symbol of quality education.
Have a look at some of our blog posts on the history of the coats of arms of some of these universities, and visit our Universities page to find out more about getting your university coat of arms