Monthly Archives:
October 2013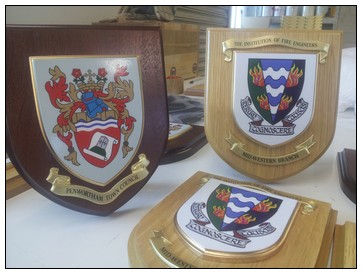 As the year draws to close we begin to reflect on the achievements of the past year, and start planning award ceremonies.
Why should you have awards ceremonies?
There are people within your organization who have been doing great things, or achieved major milestones and although everyone knows, there is still something special about hosting a ceremony to publicly recognize these achievements and congratulate the achievers.
Presenting awards at a special ceremony not only honours the people or groups that have accomplished these successes, it also holds them and their achievements up as an example to encourage others to rise to their own challenges. Award ceremonies also provide an opportunity for everybody within an organization to celebrate and share the achievements, and communicate in a more relaxed and informal environment.
Awards can be created to recognize achievements of any kind – business; sport; academic achievement; fundraising; anything where the recipients have done something worthy of recognition.
When should you hold an award ceremony?
All organizations are different – and there will be different reasons for having award ceremonies. Some organizations have annual awards – an award that is presented once a year using the same criteria every year – like "Player of The Year", "Salesperson of The Year", "Fundraiser of The Year" etc. Obviously, regular awards can be held at any interval that suits you – weekly or even daily if you like, but it is unlikely you would want to have a ceremony and even if you did the impact would be lost by hosting them too often. Other reasons for awards may include outstanding performance, bravery or anything that deserves recognition. A lot of organizations recognize length of service – 5 years, 10 years etc and sometime these awards can be incorporated into other ceremonies – AGMs and similar meetings. Volunteer organizations often host Christmas gatherings which would be a perfect time to include awards.
How do you organize and conduct an award ceremony?
Not all awards ceremonies need to be on the same scale as the Oscars with thousands of expensively dressed celebrities and internationally acclaimed artistes providing entertainment.
•    How much can you afford to spend on the ceremony?
•    How many people will be attending
•    Do you have space to host it at your own premises or would you need to rent a room elsewhere?
•    Are you going to serve food?
•    What is the best time – will any of the attendees be children, or have other commitments?
•    Should your ceremony be formal or casual?
•    Will you have guest speakers or any activities for attendees?
•    Who will present the awards?
•    Will the recipients know beforehand or will it be a surprise for them?
Type of award
This will depend on who is receiving the award and why they are being recognized. Whatever the award it is important that looks good being presented. Also, while flowers, chocolates and book vouchers may be enjoyed, they will not provide a lasting memento of the occasion.
A Rowan Displays plaque provides the perfect presentation award – it can be awarded on its own or as part of an award that includes the aforementioned flowers or chocolates. A Rowan Award Plaque will provide a lasting memento of the award.
All our plaques are beautifully finished and are supplied well packaged in durable white boxes and can be supplied with presentation gift boxes for use at ceremonies and presentations. All of our plaques can be wall-mounted and can include a stand for positioning them on desks and shelves.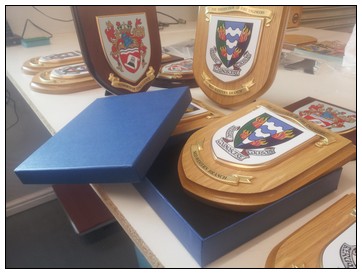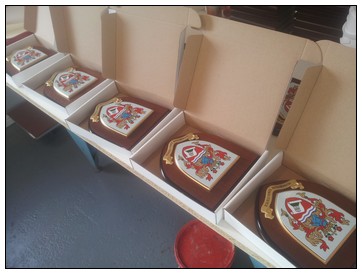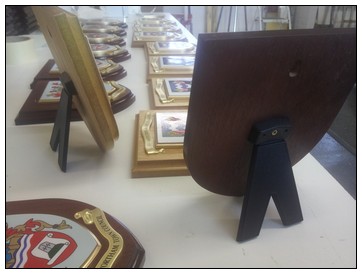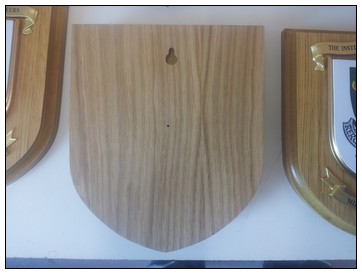 If you are planning an award ceremony and would like to know more about our award plaques please give us a call on 01430 860198 or use our Contact Us page